Mind Lab: Inner Engineering EP
The Inner Engineering EP by Mind Lab has arrived! Mind Lab is the newfangled sonic adventure by Fotis Elf, customarily known as Alchemix. Unmasking himself with a turn of direction, the Greek producer has leapt free of his progressive Trance background and delivers two weighty Psychedelic blows as Mind Lab. Inner Engineering is the application of variety, strong rhythmic elements interspersed with addictive grooves encapsulated in effusive psychedelic atmospheres. Expect a ruckus on your dance floor!
Tracklist:
1. Mind Lab - Inner Engineering
2. Mind Lab - Theologue
Release date:
19.01.16 via
Beatport
(Digital)
Synthaya: Fury Road EP
With big rigs in mind, Synthaya unchains two pulsating beasts mastered by the reputable XSI. Snarling through old school Goa elements, immersed in Psytrance, and enraged by pounding baselines and strong kicks, "Fury Road" continues where
"Black Mirror"
left off.
Roi Kabison & Gadi Sherman, both from Israel, have had great success as Synthaya, a project that combines melodic Goa, Full On, and Psy Trance music and with this latest release with BMSS we expect the journey down "Fury Road" to be mind bending.
Tracklist:
01: Synthaya - Fury Road (142 Bpm)
02: Synthaya - The Next Stage (145 Bpm)
Mastering:
XSI
Design:
Alien FX
Release date:
11.01.16 via
Beatport
(Digital)
Karma Project: Asfauda EP
When Static Movement and Ayawaska joined forces in 2015 to form
Karma Project
, they brought forth a new color in the Psytrance spectrum that radiates Orientalism, Arabic melodies, a strong Goa influence and a new approach to structuring Psy Trance. Together they have infused their musical offerings with the unusual combination of maximal energy, unique basslines and emotional sensitivity. Dancefloor tested and approved!
On a psyde note, we are pleased to have signed Karma Project. They thoroughly resonate with BMSS's musical identity and we are looking forward to releasing their upcoming album!
Tracklist:
01: Karma Project - Asfur (142 Bpm)
02: Karma Project - Fauda (143 Bpm)
Mastering:
Static Movement
Design:
Shahar Shtrikman
Release date:
04.01.16 via
Beatport
(Digital)
The BMSS Records gang welcomes you to 2016
2015 has been a very busy and productive year for us and we want to use that chance to thank you all for your support! For playing our music, for dancing to our artists, for coming to our parties and gatherings and for supporting our vision of the Psychedelic Trance bubble. Thank you from the heart!
2016 has many new projects, releases and gatherings upcoming and we are looking forward to some proper shenanigans with all of you. Thank you for subscribing to
our YouTube channel
and thank you for your continuous support!
Loads of love from Armin, Marco, Elke, Marcello, Cesar, Cels, Labros, Diogenes, Sasa, Radzy, Burak, Ben, Kami, Vladimir and the rest of the
BMSS family
.
Welcome to the S.U.N.shine of 2016
We are more than just looking forward to welcome you back to the S.U.N.shine!
Have a look to our first group of Solar.United.Natives performing at this years summer gathering, more to come in February. All info will be available on our
website
soon.
The program features some of the best artists from the Goa scene with many workshops, visual candy, organic foods, healing area and a Nature loving atmosphere. It is a limited number private gathering, that is free for the Solar United Natives citizens. Membership selling starts in January, limited to 3000 memberships.
See you at Csobánkapuszta from July 18th till 24th - we cant wait to welcome you home!
More info as well on
Facebook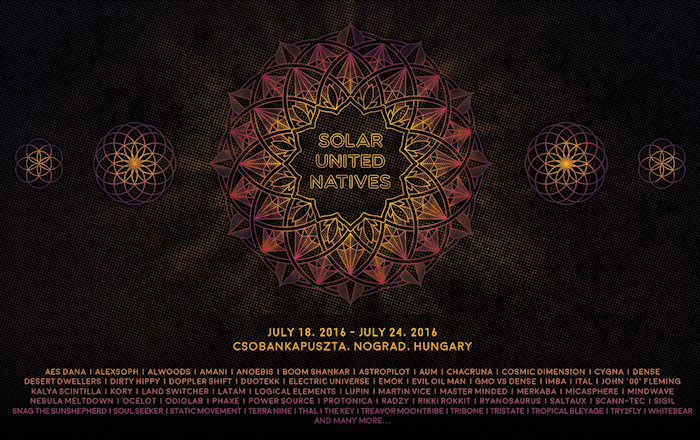 Brother Moon Sister Sun: Best of 2015
All the way from Psychedelic Trance to Goa Trance and as far as Psychedelic Techno produced by new favorites as well as our fully established acts.
20 tracks curated by label owner
Boom Shankar
showcasing the diversity of our growing BMSS Records family.
Essential "FUN"damentals so you can catch up if you missed out, or revisit moments of psychedelic pleasure. They"re back! Go get them!
Mastering:
Bart XSI & Colin OOOD
Design:
Miro Moric
Available via:
Bandcamp
&
Beatport
Welcome Karma Project to BMSS
We are thrilled to announce that
Karma Project
signed with us at BMSS Records!
The guys behind this new project are Shahar Shtrikam, better known as Static Movement and Arik Azoulay (Ayawaska), promoter of Israel`s Unity festival.
Named after it`s fortuitous inception, they intend to bring a melange of Middle Eastern and Oriental influence to Psy & Goa Trance. Expect their
debut EP
out next week. Samples and more info will be online to our website very soon...
Welcome Shahar and Arik, we are looking forward to some amazing releases with you guys!
Feedback on Ritmo Galactico
We received some nice feedback from Skyfall, Inner State and Aquafeel for our latest release by Lupin: Ritmo Galactico.
"Loved the album, crispy psychedelic sounds with a nice oldschool touch. Favorite tracks: Trancepirados, Zenanda, Future Harmonics."
Aquafeel
(Spintwist Records)
"Very powerful and intelligent! A must have for every CD case!"
Inner State
(IONO Music)
"I wasn"t expecting liking it so much, personally I heard a lot of diversity in 10 tracks, I think its a good album overall."
Skyfall
(NANO Records)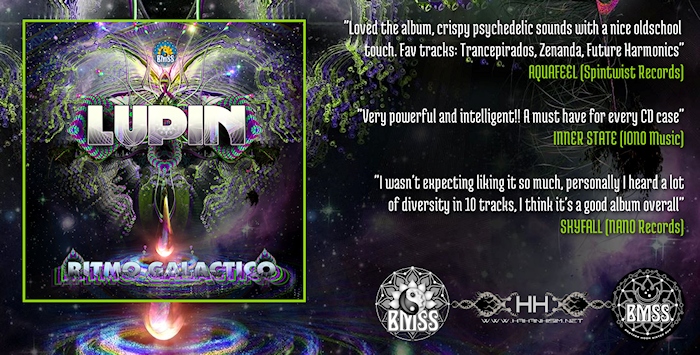 In case you haven"t heard this master piece yet, check it out on
Beatport
Ritmo Galactico is out on Beatport
The rhythm of the galaxy, and the fragile equilibrium of the universe is expressed intricately and expertly in
Lupin`s
latest work,
Ritmo Galactico
. An album created by one of BMSS latest signed artists, includes five blazing collaborations with Egorythmia, Sonic Entity, Helber Gun, OwnTrip and Hypnoxock, the album is strong, cohesive and a provocative expression of progressive Psychedelic Trance.
Robotic, electric, leads, pads, and plucks meander mathematically around robust, straight down the line, bass and kicks creating a complex dynamic space in which the dance-floor can interact with each other as well as the psychedelic musicality of Lupin"s Galaxy.
A must have for those of you seeking something a little more surprising.
Get it here:
Beatport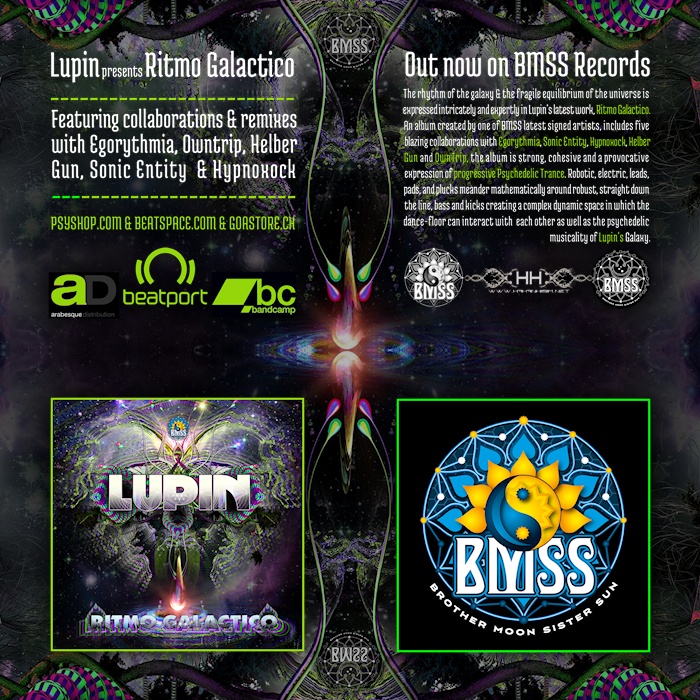 Lupin and friends: Ritmo Galactico
Listen to what`s next on BMSS Records:
Lupin
teams up with Egorythmia, Sonic Entity, OwnTrip, Helber Gun & Hypnoxock to deliver another master-piece of authentic Progressive Psychedelica!
His first album on his home label
BMSS Records
"Ritmo Galactico" takes you one step deeper, highlighting different aspects of the intense studio time, and personal expression that was dedicated to this album. You won`t walk away from this with a feeling that you just revisited the best that progressive Psytrance had to offer, but you might get a sense that perhaps the best is yet to come.
A must have for those of you seeking something a little more surprising.
Ritmo Galactico is out now on BMSS Records as CD from
Psyshop
,
Beatspace
and
Goa Store
and on 13.12. as Digital Download via
Beatport
!